Lavish Universe
Smart Watch with Bluetooth Earphone
Regular price
$33.99
Sale price
$187.99
Unit price
per
Brand Name: centechia
Network Mode: None
SIM Card Available: No
System: None
Multiple Dials: No
ROM: <128MB
Function: Passometer
Function: Fitness Tracker
Function: Sleep Tracker
Function: Message Reminder
Function: Call Reminder
Function: Remote Control
Function: Push Message
Function: Big Three Needles
Function: 24 hour instruction
Function: Alarm Clock
Function: Power Reserve
Function: Week
Function: Month
Function: Heart Rate Tracker
Rear Camera: None
Battery Capacity: <120mAh
Language: English
Language: Russian
Language: Spanish
Language: Portuguese
Language: French
Language: German
Language: Dutch
RAM: <128MB
Mechanism: No
Compatibility: All Compatible
GPS: No
Type: On Wrist
Waterproof Grade: Not Waterproof
Band Material: Silica Gel
APP Download Available: No
Application Age Group: Adult
CPU Model: NRF52832
Battery Detachable: No
Movement Type: Electronic
Style: SPORT
Screen Shape: Square
Case Material: Plastic
Band Detachable: Yes
Resolution: 240*240
Display Size: 1.3 inch
Keep track of your workout as well as your earplugs at the same time with the watch, the 2-in-1 Smart Band with Bluetooth 5.0 Earbuds.

Latest in wearable technology, it lets you analyze your health vitals while keeping your earbuds safe and sound under its touchscreen. Keep them intact while its magnetic charger juices them simultaneously.

Trackbuds™ record information like your heart rate, step count, etc. and displays on your smartphone. Whether it is an iOS or Android device, you can easily check your stats with an easy to use app. It also lets you keep up with incoming calls and texts. Just pop the earbuds out and answer all your calls right away.
With multiple sport modes to choose from, Trackbuds™ can help you maintain a day to day fitness schedule as you gradually reach your goals.
Important Functions:
Text and Call Notifications
Heart Rate Monitor
Blood Pressure Monitor
Pedometer
Distance Tracker
Calorie Tracker
Remote Camera
Custom Clock Faces
Scratch-proof
Shock-proof
Water-proof
 FEATURES
Earbuds Always Handy: Apart from collecting your vitals, Trackbuds™  have two earbuds which can lighten up your mood or entertain you literally anytime, anywhere.

Ergonomic Design and Built-in GPS:

 

Trackbuds™ is brilliantly designed with smart built-in GPS. Wherever you are, ensure your safety by sending alerts to local authorities and get help if needed.

Precise Sensors:

 

Equipped with high-end sensors on the opposite side of the screen to sense your heart rate, blood pressure and transmit the information to your smartphone.

Friendly Interface: Trackbuds™ has an easy-to-use touchscreen which is synced with your smartphone. The application provides a friendly interface and occupies negligible space in your smartphone.
Display and Innovative Charging: The screen automatically adjusts to lighting conditions, makes it easier to see stats, notifications in sunlight or at night.  It is made with high-grade TPU, Silicone, ABS and Zinc Alloy, making it scratch-proof, and water-proof. The screen is also protected with a curved glass which makes it shock-proof as well.Trackbuds™ charging area is on the opposite side of the display and the connector clamps on easily using magnets on both ends.

Trackbuds™ features a customized driver made with graphene - a highly conductive, flexible, and strong material consisting of latticed carbon atoms bonded in a hexagonal pattern. This advanced material allows UNI to produce mids and highs that are rich in details and perfectly balanced with the bass tones. It is considered to be the most thinnest conductive material that produces wider range of sound experience and also it prevents from undesirable frequency response without dampening the material.


Trackbuds™ earbuds are 100% IPX7 rated waterproof inside and out for sports and protection from harsh environments. This means it can be immersed into one-meter deep water for half an hour without any leakage, mechanical or functional damage. It is the highest rating in all earphone crowdfunding campaigns. So now you don't have to worry when you're swimming, surfing, or hiking in the rain.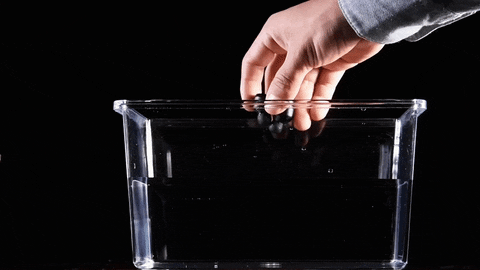 Base achieves CD quality high fidelity sound by employing aptX technology. aptX audio enables Bluetooth wireless devices to deliver High Definition (HD) audio. It works by preserving sound data during transmission by constantly sampling audio between one moment in time and the next to accurately reproduce the best audio even after compressing and decompressing. It is also uses low battery consumption & has low latency for the best possible wireless listening experience.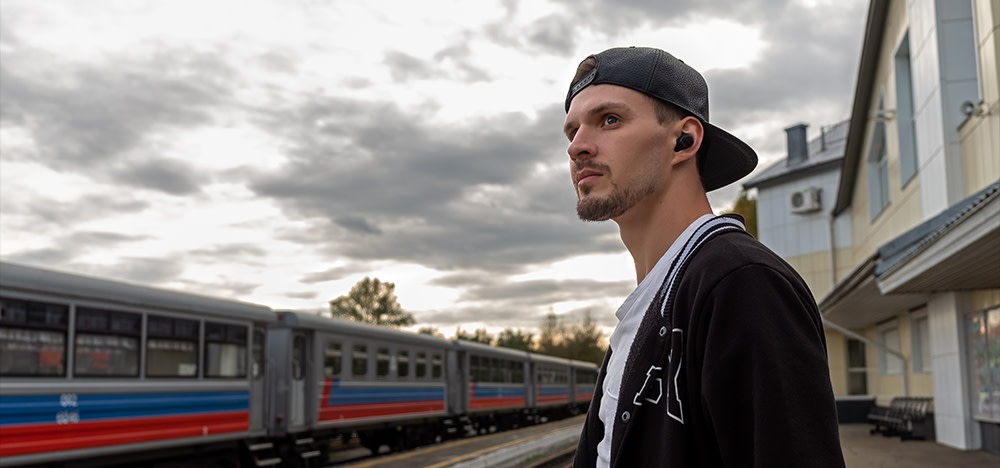 One unfortunate issue with most wireless headphones on market is latency and drop-outs. It's especially unbearable when you are watching a movie or playing games. Base features Bluetooth 5.0 connectivity to transmit sound faster in a super stable way. In addition, it can also seamlessly sync with visual media thanks to its Low Latency aptX feature. 

Keep your phone or tablet safe in your locker at the gym or in your bag at the airport while you access all your music wirelessly from your Base earbuds. You'll never need to worry about dropped connections or lapses in sound quality thanks to leading Bluetooth 5.0 technology.


Base sets you free - roam around the house, play your hardest on the field, even take a dip - Base never stops you from doing your thing.
We've tested our custom LDS antenna thousands of hours in hundreds of different scenarios to increase bandwidth and signal reception while reducing interference and noise. Experience a TRUE wireless experience with Base.


After thousands of hours of research and testing, we utilize the power of Bluetooth 5.0 to remove virtually all sound lag between your device and our buds – something that all the big guys - Bose, Bang and Olufsen, Beats, and many others – were unable to achieve. Ditch those wires and never miss a beat and experience videos exactly the way they were meant to be. 



With Base's voice command system, you can control your music, surf the web, access your messages and much more using just your voice. Base is equipped with an ultra-sensitive microphone that picks up your voice and your voice only. Access Siri or Google Assistant with a subtle command and turn your headphones into your virtual command center.


Intuitive touch sensor, just tap to activate.
Base's intuitive touch-control system is an industry first. Forget buttons. These controls are based on your movements. Single and double taps on the left and right earbuds allow you to control your music, answer calls, access your virtual assistant and more.

The health and safety of our customers and communities around the world is our top priority.
One of our company values is caring. The way everyone is looking after each other is truly inspiring. We take strength from the fact that our products can bring families together for moments of joy, even at the most uncertain times.
Here are a few updates on the measures we're currently taking:
SHIPPING AND DELIVERIES
We're still shipping orders during this period, but deliveries are likely to take longer right now. As we're receiving more orders than we expected and we're following additional safety measures at our warehouse, deliveries are currently taking 15-30 days to arrive after the order date.
Our couriers are taking lots of steps to follow the latest safety guidance by providing masks, gloves and sanitizers for their delivery drivers. They're also offering contact-free deliveries, giving customers the option to have packages delivered to a safe place. As we work with many different couriers around the world, they'll also be following local guidelines for your region. If you'd like to find out more, please check with your local courier for more information.
EMPLOYEE SAFETY
Making sure that our employees and their families are safe is very important to us. We're helping all employees whose jobs allow them to work flexibly, to stay safe at home so that they can balance work with family and childcare responsibilities more easily.
For our colleagues who need to come to work, we're taking extraordinary measures to protect their health and wellbeing. Employees are able to have their temperature checked and we're following strict hand washing and sanitizing guidelines. We've also rearranged our workspaces so that employees can spread out and make sure they have enough space between each other.
PRODUCT SAFETY
From the factory floor to the delivery truck, we're taking great care to make sure our employees and customers stay safe. Our factories, warehouses and distribution centers follow guidelines we have in place across all of our sites which meet the strictest global safety standards. If you're ever concerned about any packaging, you should wipe it down with a disinfectant and wash your hands afterwards.
---
Share this Product
---